About The Early Vancouver Project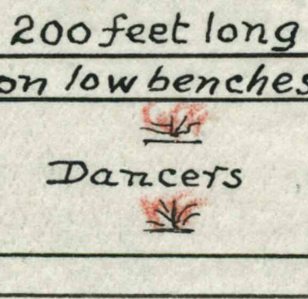 Stage for Chief, notables, guests.
Gift blankets, etc piled up.
Item # EarlyVan_v4_029 from Volume 4.
In 1931, Vancouver's first City Archivist, Major James Skitt Matthews, set himself the task of recording all he could about the early history of the City of Vancouver. To this end, he began identifying and interviewing everyone he could find who had lived in Vancouver before 1886, the year the City was incorporated and the year it burned in the Great Fire. He talked not only to prominent members of Vancouver society, but also to many ordinary men and women from a wide variety of backgrounds, including aboriginal people.
Compiled between 1931 and 1956, and totalling seven volumes and over 3,300 pages of single-spaced, typewritten text, Early Vancouver is consistently one of the most utilized sources of information in the Archives' holdings on the very early beginnings of Vancouver and the stories of its residents. Although the volumes were not published per se, small numbers of duplicate typescripts were made over the years and the first two volumes were typeset and commercially printed in 1959. In the case of some volumes, however, only one copy remains. All the volumes are now showing their age, and wear and tear from regular use has become a serious problem.
In 1998, spearheaded by the late Fred Thirkell, the Friends of the Vancouver City Archives published an amalgamated index to all seven volumes. This index has proven invaluable for researchers as a way of searching the entire work. In 2009, funding was received from the Vancouver Historical Society to take this access one step further and provide web-based access to all seven volumes. The project achieves two important objectives. First, by providing researchers with online access to Early Vancouver's content, the physical handling of the original volumes is reduced, contributing to the preservation of the precious physical original. Secondly, online availability, and particularly keyword indexing, improves access to this unique and well-used record of Vancouver's past.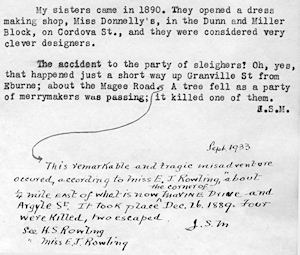 An example of Major Matthews' script
Text in Volume 1, page 109 of 2011 edition
All seven volumes of Early Vancouver were first transcribed using word processing software. Digitization and processing using optical character recognition (OCR) to allow keyword indexing was originally considered as an option for the project. Unfortunately, test scans revealed that the typescript of the originals was too blurred and the onion skin paper too thin to create good enough quality images to make OCR viable. Without OCR processing, the images would not be searchable, much reducing their usefulness. Transcription was therefore seen as the best option.
Most of the volumes contain marginalia written by Major Matthews, some of which he intended as corrections and additions to the text itself. As the material was transcribed, these annotations were added to the text, effectively producing a "2011 edition" of Early Vancouver.
Early Vancouver includes a number of illustrations including maps, clippings and photographs inserted between the typescript pages. Totalling over 700 images, these were digitized for inclusion in the online version. The digitized images were then inserted into the MS Word transcription of each volume and given item numbers and ALT tags, the latter as an accessibility aid. Each MS Word document was rendered to PDF-A format and then to ODF for the purpose of downloading each volume in its entirety.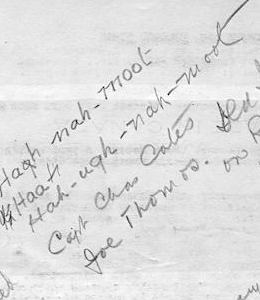 Example of Major Matthews' script

The seven Word documents were then broken into over 1,300 logical sections and these sections saved as separate documents and then rendered to PDF-A format. It is these sections that are presented as "chapters" for browsing purposes and also as the results of a keyword search on a specific volume or across all seven volumes.
Using Volume 1 as a prototype, a web environment for Early Vancouver was designed by a student from the University of British Columbia's School of Library, Archival and Information Studies as a for-credit professional experience project. Archives staff then used the prototype as a template for presenting Volumes 2 through 7.
In celebration of Vancouver's 125th birthday, the Archives launched the online edition of Early Vancouver on May 29th, 2011. Lee Henderson, author of the award-winning book The Man Game, read from the Early Vancouver volumes, highlighting the many inspirations he found for his novel, and drawing parallels between early and contemporary Vancouver. His presentation was followed by a special acoustic performance piece by Robert Pederson and Jake Hardy, Coco Baton, depicting the sounds, music and experience of life in the early days of our city.
Many people played a role in creating this 2011 edition of Early Vancouver. The City of Vancouver Archives is indebted to Tricia McDonald Ward for her transcription and editing services, to Megan Schlase for supplemental research and quality assurance, to Lisa Snider for the web design work and assembly of Volume 1, and to Nancy Mulligan for her digitization work and the assembly of Volumes 2 to 7.
[top]