McLennan & McFeely Catalogue
The Company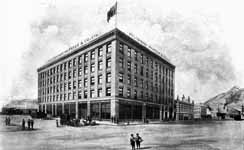 Robert Purves McLennan was born in Pictou, Nova Scotia, December 7, 1861. He worked in businesses, including ship-building, in Nova Scotia for several years before moving to Winnipeg in 1882. In 1884, he moved to Victoria and started an ornamental iron business. In 1885 he called upon a friend working in Minneapolis, one he had known in Winnipeg, to become a partner in the rapidly expanding business. The friend was Edward John McFeely, born in 1864 in Lindsay, Ontario.
In 1885, they decided to open a store in Vancouver. They purchased a lot on Powell Street and had started construction, when the great fire of 1886 destroyed much of the city. Their building was spared, and their goods were needed to re stock the city.
The business grew in both Victoria and Vancouver. In 1886, they built a warehouse on Cordova Street, only the second building on that street. In 1896, they incorporated as McLennan, McFeely and Co., Ltd., known colloquially as "Mc & Mc".
McLennan travelled to Dawson City for a short trip to sell some hardware. He stayed for five years, building a store and serving as Mayor in 1903. He sold the Dawson City branch and returned to Vancouver in 1904.
McLennan & McFeely was a significant business which supplied a wide variety of goods and had many stores. Goods were manufactured for them, and they distributed products from other manufacturers. According to Howay and Scholefield, "The plant is an extensive one and the business now covers a wide territory, reaching out in its ramifying interests to various parts of the province. The business is today [1914] the largest of the kind west of Winnipeg and the second in size in Canada."1
McLennan was prominent in Vancouver city life. He was the president of the Bank of Vancouver, a member of the Vancouver and Terminal City Clubs, president of the Board of Trade, a member of the Board of Governors of U.B.C. He served in the First World War, the only Canadian soldier to be awarded the Distinguished Conduct Medal and 2 bars.2 He was buried in Mountain View Cemetery .
Edward Gawler Prior immigrated to Vancouver Island from England in 1873. After working as a mining engineer and Inspector of Mines, he opened E.G. Prior, a hardware and machinery business. He became premier of B.C. in 1902 but was dismissed in 1903 due to a conflict-of-interest charge. In 1919 he became Lieutenant Governor and died in office in 1920.3
After Prior's death, in 1927 or 19284, "Mc & Mc" became McLennan, McFeely & Prior, which continued to operate as a significant hardware store in B.C.
The building shown inside the cover of the 1908-1914 catalogue is at 55 East Cordova Street and is now known as the Koret Building. It was built for McLennan and McFeely and first occupied in 1908. They occupied it until 1953. In the 1960's the building was purchased by Acklands (now Acklands-Grainger) which also purchased McLennan, McFeely & Prior. Koret of Canada occupied it during the 1980's and 90's. It is on the City of Vancouver inventory of heritage buildings. It was converted to strata housing, the Koret Lofts, retaining much of its heritage character due to a grant from Parks Canada.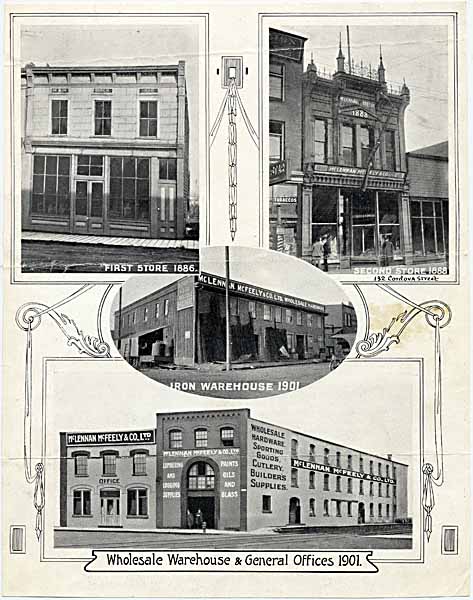 Images of stores and warehouses from a later McLennan, McFeely catalogue. City of Vancouver Archives, Add MSS 54. 504-F-5 file 117
1Howay and Scholefield , British Columbia : From the Earliest Times to the Present, vol. 3, p. 1187. Back to Note 1
2http://vancouver.ca/commsvcs/nonmarketoperations/mountainview/military/index.htm. Back to Note 2
3http://www.thecanadianencyclopedia.com/index.cfm?PgNm=TCE&Params=A1ARTA0006495.

Back to Note 3
4First appearance under that name in the city directories is in the 1928 Wrigley's B.C. Directory. Back to Note 4

[top]